Project manager Shreya's international consulting career. 
When it comes to her career, Shreya Ruikar — Project Manager with DHL Consulting — has always believed in seizing the day and taking a chance.

It's important to be adventurous and grab the opportunities that come your way, she insists, no matter how overwhelming they might seem — or wherever in the world they are. It's certainly a motto she's lived her life by, both personally and professionally.

Shreya Ruikar
Originally from Pune, India, Shreya graduated with an engineering degree from Savitribai Phule Pune University but knew she wanted to complete a post-graduate in business studies. "That desire drove me to study an MBA at the Indiana University Kelley School of Business in the U.S.," she says. "After that experience, I moved to Chicago to join an external strategy consulting firm ."
Shreya took all this change in her stride. "I had a great time in Indiana," she says."And I'm glad I went to Chicago because it's a wonderful city. It doesn't always have the best weather, but the people are amazing and from all walks of life, and there are so many cultures and festivals. There was never a dull day. And because my job involved a lot of traveling I got the chance to see the country properly." She worked in the U.S. for close to four years.


There was one issue, however. Shreya was in a long-distance relationship with her boyfriend (now her husband) who was based in Germany, and they were constantly traveling to see each other. So, more recently, Shreya decided to make another move, this time to Germany. "My husband is an automotive, designer and I'm a consultant, so when we married it made sense to move to a place where we could settle long-term," she says. "I've now been in Bonn a little over a year, and it's a beautiful city that I'm falling in love with."
Shreya first became aware of DHL Consulting when she was studying for her MBA. "I have friends and a professional network in consulting who talk about different consulting firms and how they operate," she says. "So I knew of DHLC through my network. But then, when I met people from the company to talk about recruitment possibilities, I discovered DHLC has a flexible attitude towards work, which helped me make the decision to join."
As a Project Manager, Shreya's role is multifaceted. "On the DHLC side, it's my job to drive the direction of a project, making sure the team understands what we have to deliver for the client within the given timeframe, scope and budget," she says. "On the client side, I have to understand their needs, identify issues early on, manage their expectations and then make sure the solution adds value to them and is future proof. Ultimately, after our work is complete, it's immensely satisfying to see a client succeed. That's what fires me up."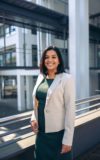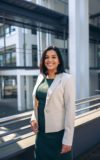 What attracted you to DHL Consulting?
The culture of the organization. During the interview process — and then afterwards in casual meetings over coffee — I met a variety of people from the office who were all different, but had one thing in common: they were extremely welcoming. That friendly atmosphere fosters creativity, because it allows you to be your authentic self at work.
Have You Seen the Consulting Industry Become a More Progressive Place for Women??
I have. The industry as a whole has been a change champion and become more welcoming and dynamic. I've seen things progress in terms of work/life balance and flexibility, too. In some firms, the client always had to be aware of the value the consultant was delivering for them. I think we've moved a long way from that. Let's face it: we shouldn't have to clock in for X number of hours or prove we're working late in order to impress someone. The quality of the work we do should speak for itself.
Do You Feel Supported To Develop Your Skills and Interests Within the Company?
Like all colleagues at DHLC, I have a personal developer who works with me, understands my strengths and helps me improve any areas of weakness. We have interactive discussions about the skills I would need for my growth and how can I achieve them. If I have a skill I want to develop, I feel very comfortable about raising my hand and saying: 'I want to try something new and develop in a particular area.'
Are Role Models Important to You?
Absolutely. It's important for me to look further up the career ladder to see if I can grow in my role, and know that someone like me is part of the leadership team. I'm pleased to say that DHLC is very diverse, with a good share of women leaders.
How Important Is Diversity in the Work You Do?
It's crucial. Clients like diverse teams. After all, the reason they hire us is to bring in an external perspective. If you have a diverse consulting team, you're going to get different perspectives, opinions and productive points of view, all of which brings value to the client and enriches the quality of our work.
You Listen to Podcasts About the Workplace. Why? And Are There Any You Can Recommend?
They help me keep abreast of the latest thinking about the challenges that other professionals can experience in the workplace and open up my own perspective. I can recommend WorkLife with organizational psychologist and TED speaker, Adam Grant. I know it's a cliché to like that particular podcast because it's very popular. But there's a reason for that: it's very good! Adam Grant has some amazing ideas.
How Do You Relax?
Hiking. I should qualify that, however. For me, hiking was always recreational and… well… an amateur pastime. Put it this way: an average hike would generally take me around two hours. But when I came to Germany I soon realized that if a hike is labeled 'moderate' on the German hike app, it's going to take me at least three-and-a-half hours… so let's just say I had to adjust my terms of reference! I enjoy reading, too — a mix of fiction and non-fiction. I recently completed Permanent Record, Edward Snowden's autobiography. That was fascinating.